Staff-level agreement with IMF boosts PKR, KSE-100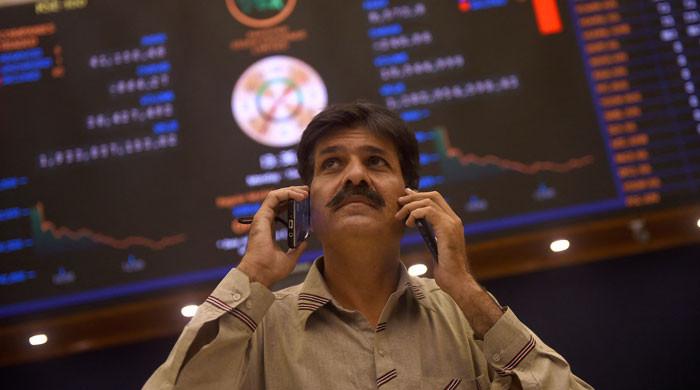 Taking positive cues from the staff-level agreement between Pakistan and the International Monetary Fund (IMF), the rupee broke its 17-session losing streak while the Pakistan Stock Exchange's (PSX) benchmark KSE-100 index rallied past 57,000 points.
Pakistan, a day earlier, had reached a staff-level agreement with the IMF on the first review of a $3 billion bailout.
After approval from the Fund's Executive Board, Pakistan will have access to around $700 million, bringing total disbursements under the programme to almost $1.9 billion, the IMF announced in a statement on Wednesday.
Today, the rupee broke its 17-session losing streak after it gained Rs0.76 against the dollar and closed at Rs287.38 against the greenback in the interbank market at the close of the day, State Bank of Pakistan's data showed. The local currency had closed at Rs288.14 on Wednesday.
The benchmark KSE-100 index reached an intraday high of 57,549.26 points. However, it closed at 57,397.02 points after gaining 716.96 points or 1.26%, up from the previous close of 56,680.06 points.
In a conversation with Thenews.com.pk, Dr Khaqan Hassan Najeeb, a former adviser of the finance ministry, said that the PSX buoyed due to the staff-level agreement with the IMF. He added that the $700 million from the global lender will help Pakistan make way for "much-needed" external financing.
"IMF's approval means that the government has worked on fiscal consolidation as well as the change in energy prices which curtails the circular debt," said Dr Najeeb.
The economist believes that the external financing "flow will give some comfort to the forex market as well as the supply side increase and the debt instruments including the financing from multilaterals, both program and project loans".
He added that loans from bilateral and rollovers, friendly countries, and commercial funds will start flowing in after the IMF agreement.
"The rupee will of course be determined by the kind of flows that we see and the kind of demand that is generated on the import side. In the long run, I always say the rupee parity with any foreign currency is a function of the productivity of the country," said Dr Najeeb on the rupee's appreciation.
Overall trading volumes increased to 1.25 billion shares. The value of shares traded during the day was Rs37.4 billion.
Shares of 385 companies were traded. Of these, 220 stocks closed higher, 147 fell, and 18 remained unchanged.
WorldCall Telecom was the volume leader trading in 386.3 million shares, gaining Rs0.19 to close at Rs1.59. It was followed by Cnergyico PK with 45.1 million shares, losing Rs0.04 to close at Rs4.70, and Pakistan Refinery Limited with 39.5 million shares, gaining Rs0.73 to close at Rs24.97.
Source link