Of words and worlds beyond the imagination | The Express Tribune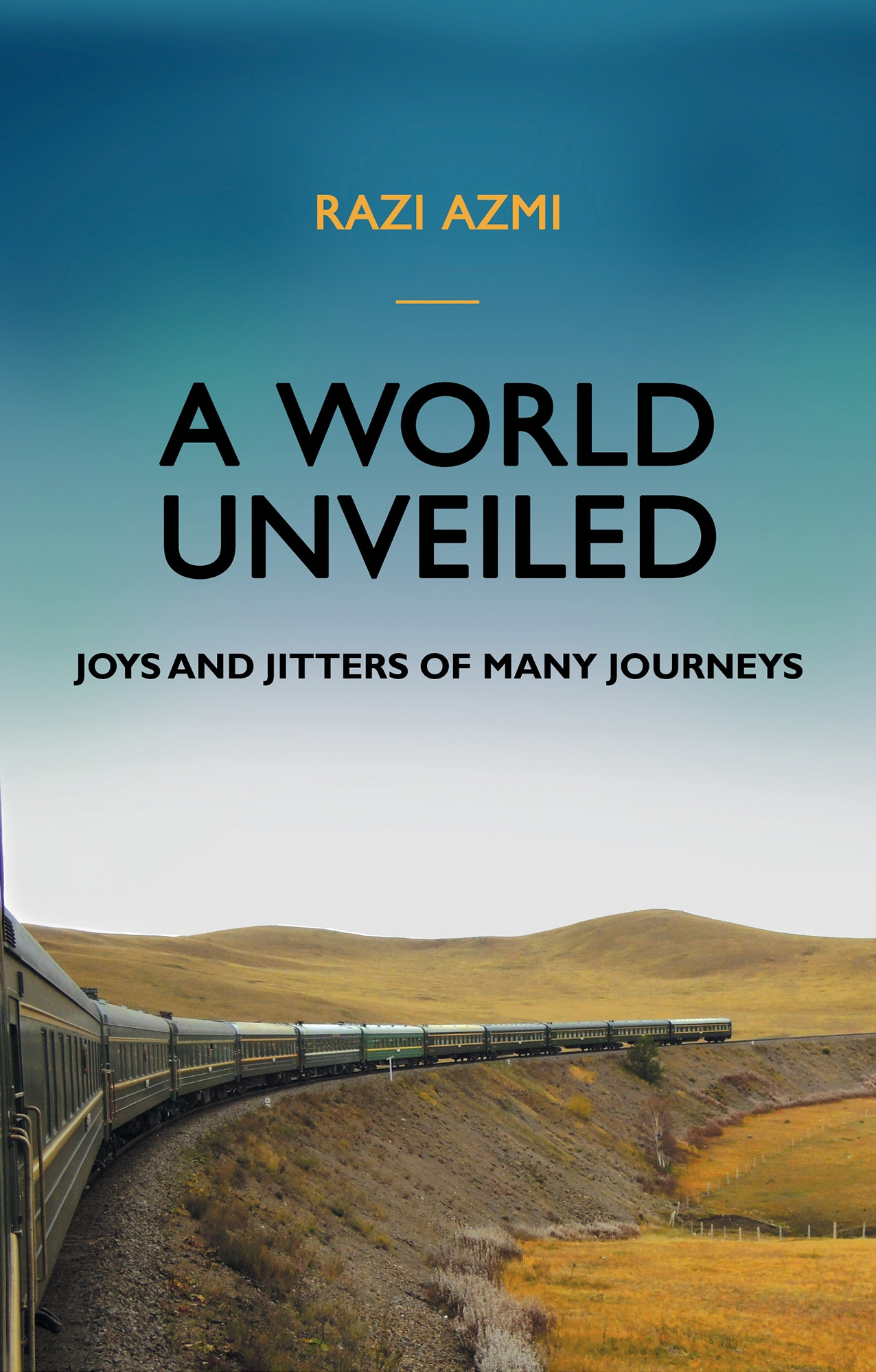 Passion for travel, tourism and seeking manifold experiences by interacting with countless people of diversified background is not an easy task. The more a person travels with open eyes, ears and mind the more there is a possibility of sharing his/her experiences in a published form.
Razi Azmi's book, 'A World Unveiled' is perhaps a first travelogue by a Pakistani origin Australian national, which covers five continents of the world spanning over a period of five decades. Short of completing a century, the author has traveled to 96 countries, thanks to his Australian passport which gives visa free access to more than 100 countries.
The book under review needs to be examined from four different aspects. First, the author has not only shared his personal experiences while travelling to different parts of the world, he has rightly given valuable advice to reader's requirements for a valuable travel and tourism. In Chapter Two under the title, 'Traveler's travails and troubles' the author cautions that, "Travelling is fun for those who like to see places, to explore the world, but it is not without its travails and troubles. It is not a picnic and, depending on where you go and how, it is a mixture of pleasure and pain, of highs and lows, moments of sheer joy interspersed with bouts of frustration." As rightly suggested by the author, "besides passion, there are three pre-conditions to traveling, namely, time, money and health. Unfortunately, some people wait far too long organising the first and second (time and money) and just when they think they have both, the third, that is, health, causes concern." Furthermore, travel also requires planning as the combination of time, money, space and heath can help the person concerned to experience minimum mishaps but in a country like Pakistan which is blessed with scores of tourist attraction, the absence of the culture of tourism and travel tends to deprive the country of getting international recognition and much needed foreign investment.
Having an age-old passion for travel and tourism, Razi Azmi since his childhood in the then East Pakistan had the hobby of collecting travel brochures and maps. His advice that a tourist must be equipped with guide books and information about the places to visit is professionally useful. Second, Pakistan's tourism potential is unable to transform as an industry because of dearth of adequate facilities and a tourist friendly environment. The author however narrates the hospitality of local people but the northern areas which are blessed with several tallest peaks continue to encounter lack of proper accommodation, sanitation and hygienic food. In September 1977, Razi Azmi made his first journey to Gilgit and managed to reach that tourist destination from four sides: Azad Kashmir, Chitral, Naran and KKH. Razi Azmi's last visit to Gilgit was in 1994. Third, the book is a reflection of the author's sharp observation and memory by spelling out names, dates and other details of places which he visited in five continents. Sharing of pleasant and unpleasant experiences during his travels in different countries reflect visa regime in cases where the concerned authorities are inflexible and are least concerned about the 'image' problem.
For instance, while covering the Central Asia segment of his travel, the author expressed his chagrin and bitterness over the manner in which he was denied Visa for Turkmenistan. According to him, "The Turkmenistan government is known to refuse visas without any apparent rhyme or reason. If there is any method to its madness, it is probably this: keep journalists and scribes, probing minds and skeptical tourists and anyone who does not appear to be anything other than a typical western traveler, coming to have a good time, a few drinks and be gone to their next destination." It is yet to be seen how regime change in Turkmenistan will transform its visa policy so that travelers do not carry a bad impression about a country which unlike its other Central Asian counterparts is least receptive to travel and tourism.
Another case of difficult visa issuance as experienced by the author is Nigeria. Razi Azmi while covering his African journey pointed out that, "My Australian passport allows me visa-free travel to many countries and visa on arrival to many more. Even those countries, which require a prior visa don't ask too many questions or documents. But Nigeria requires not just a visa in advance, but to get one I would need an invitation letter from someone in Nigeria." However, Razi Azmi managed to get invitation during his stay in Porto Novo, the official capital of Benin. Visiting step Grandma of former American President Barack Obama, Sarah Obama under "the shade of a tree" next to their house in a Kenyan village was another milestone of author in his travelogue because despite difficulties, he was able to meet the 90-year-old lady.
Of all the regions covered by the author, it was his journey to India by train, which fascinated him exceedingly. Azmi traveled to India before the surge of Hindu nationalism under the Modi regime and BJP-Shiv Sena anti-Muslim drive to change the Muslim heritage of India. For instance, he proudly observed and stated in his book that, "historical monuments in India, including those of Muslim origin, are quite well preserved. While India appears to take pride in its Muslim heritage, Pakistan has virtually renounced its Hindu past." Things however, have changed in India today with systematic drive of Modi regime to erase Muslim heritage by changing names of cities and roads.
Narrating his train mishap in India in 1992, the author stated that, "as I was sleeping on an upper birth in an express train from Hyderabad to Chennai, I woke up in shock of the middle of very dark and wet night about half way through my journey. A thunderous rumble and jolting confirmed my worst fears: the train had derailed."
Finally, from the reader's point of view it becomes difficult to make sense of author's information because he tried to cover major points in his travel but lacked coherence. Covering details of his travel to five continents in one volume was an uphill task but it would have been better had the author published his travelogue in three parts: focusing on Americas and Europe in one slot. Africa in view of its size and number of countries could have been dealt in a separate volume. Whereas, Eurasia, Central Asia, China, India, Middle East could have been arranged in a separate volume. Needless to say, the book under review is a fascinating piece of work encompassing a wealth of information about the world.
In his concluding remarks the author holds: "I dream, therefore, that one day people should be able to travel hassle-free across the wonderful lands of South Asia and Central Asia. Mutual suspicion between countries (particularly India and Pakistan and between India and China) and bureaucratic inertia (especially in Turkmenistan, Uzbekistan and Iran) remain the biggest, if not the only obstacles". Let's hope, Pakistan is able to put its house in order so that its economy, politics and environment can help 220 million people of the country obtain a better place in the comity of nations.
(The writer is the Meritorious Professor of International Relations and former Dean Faculty of Social Sciences, University of Karachi.)