Hayat lauds 'Ms Marvel' for its 'authentic portrayals' | The Express Tribune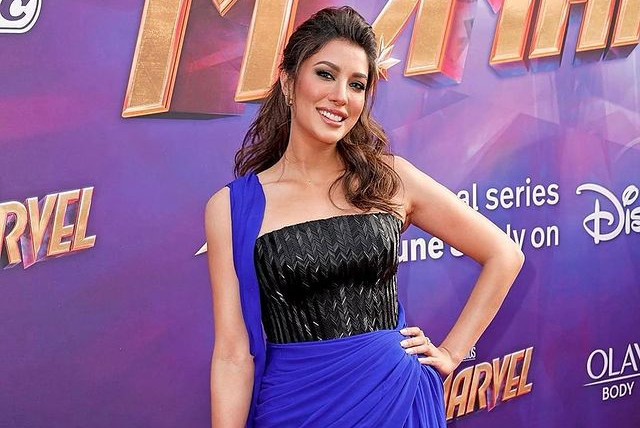 While many have called out the upcoming Ms Marvel series for "misrepresenting" Pakistanis, dubbing the inclusion an act of "tokenism" and missing the mark completely in its depiction of a Pakistani Muslim and her family, actor Mehwish Hayat has praised the series' makers for their "attention to detail".
She has dubbed the show's portrayal of Muslims in Pakistan "very authentic" and claimed that the world will now finally get to see how "we live our lives". She also addressed how Muslims, and Pakistanis in particular, have always been demonised by Hollywood and Bollywood. But this, Ms Marvel, might change the narrative.
"It's so amazing that the show was done at a time when we needed this diversity, this representation. Because for the longest time, we have been shown as the baddies in films and I think this is really going to portray us in a positive light," said Hayat during an interview on the red carpet for the Ms Marvel premiere.
Hayat joined MCU with the show and has worked on Ms Marvel, although, her contribution or character is yet to be revealed. The actor shared a post on Instagram featuring pictures from the event, posing next to Obaid Chinoy and the likes of Kevin Fiege, who is executive producer for Ms Marvel, among numerous others.
The actor went on to tell the host while on the red carpet, "The portrayal is very, very authentic. Sana Amanat and Jena Berger as producers and Sharmeen Obaid Chinoy as director have put in so much attention to detail to bring authenticity into this project. The portrayal is just so… perfect. I mean, you'll get to see how we live our lives, how we are as normal as anybody else in the world. And we all can relate to it [the show], we can all resonate with it."
Hayat also shared that she is looking forward to the girls who will be inspired by Kamala, played by Iman Vellani. "All these teenagers will find that they just need to believe in themselves and believe in their dreams no matter what the world tells them. No matter what goes around, there is a superhero in all of us and we just need to realise that," she concluded.
In her post dedicated to the event and Ms Marvel, she elaborated: "Working on Ms Marvel and being part of the MCU is a dream come true for me! You cannot believe what it means to finally have the first brown Muslim superhero that we can all relate to and who speaks for us. Words can't describe how happy my inner child is to see my culture being so accurately represented on screen, in a mainstream Hollywood production."
She appreciated Marvel Studios for having made the effort to cast Pakistani actors in key roles. "I hope that this will not only show actors in Pakistan that they need to look beyond their own borders but also give Hollywood the confidence to cast talent from Pakistan."
Tagging the "wonderful producers" of the show and Obaid Chinoy, she added, "I was so proud to see our double Oscar winning Sharmeen directing Ms Marvel. Couldn't think of anyone who would have been better." The Actor in Law star also commented on her experience working with Vellani. "Working with Iman Vellani, who plays Kamala Khan was an absolute delight. She is a real firecracker who is destined to be a big name in Hollywood – mark my words."
Hayat mentioned how she was fortunate enough to also meet with Feige and Louis D'Esposito, "the producers on so many big Marvel projects I've admired, was the icing on the cake! Marvel really needs to be applauded – they have made every little girl – not just brown girls – believe that they are special… and can achieve their dreams if they believe in them enough."
She then gave her own example, "Look at me… a girl from Karachi walking the red carpet in Hollywood shows anything is possible." The actor concluded with a special shout-out to her glam team, "who made me look and feel a million dollars." The star donned a blue and black dress to the show, wearing minimal makeup with bold eyes. She let half her hair loose and tied the other half gracefully into a graceful knot, pinned back. Her dress complimented her figure, hugging tightly around her waist and bosom, draped over her shoulder.
Another video of veteran actor Samina Ahmed, who's also part of the Ms Marvel franchise, came to the fore from the red carpet of the event. In her interaction with the host, Ahmed had called the casting of a Pakistani teenager in a Marvel show, representing Pakistanis everywhere, "huge". She went on to assert that having "this very young girl leading us all is absolutely gorgeous and brilliant," dubbing the portrayal a need of the hour. "I think it's the call of the time too," she remarked.
When asked about her character, Ahmed maintained, "I think I'm still bound by contract to not delve out details about my character. I'm keeping that secret close to my heard, not because I want to, I mean I want to share everything. But because they said, 'keep the secret'."
Have something to add to the story? Share it in the comments below.