Finding joy at Cannes | The Express Tribune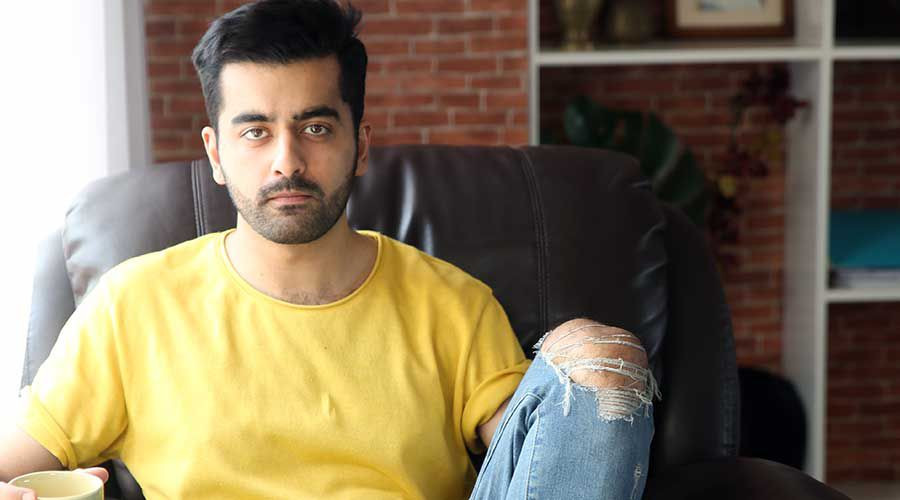 PUBLISHED
June 05, 2022


KARACHI:

The brilliant director Saim Sadiq was pleasantly surprised this year on his birthday on March 28th when he received a message from Cannes, only a couple of days after he submitted his feature debut. Joyland was set for its global premiere in Cannes as the first Pakistani film ever selected for official selection against 14 topnotch movies in the Uncertain Regard category. Knowing that Cannes only takes a limited number of films, it is all the more delightful for Pakistani film to have made the cut — for the first time in history! Read that again. The selection alone was enough of an achievement but the movie worked its own magic.
Currently concluding his MFA at Columbia University, School of Arts with a background in anthropology, Saim's earlier documentary work was showcased by various national networks on television, thrilled the social media in Pakistan, and was featured by BBC's Free Speech Stories. To say that it was his first time being featured and recognised globally would be a disservice to Pakistani art and cinematics. His first short film Pasban (2017) screened at numerous festivals around the globe. Nice Talking to You (2018) was awarded Vimeo's Best Director along with five other awards at the 2018 Columbia University thesis film showcase. He is the recipient of the Kodak Student Scholarship Gold Award 2018, selected as the top winner from students across the world. His first feature, Gulaab, was accepted at the Open Doors Hub at the Locarno Film Festival 2018. He was most recently premiered in Cannes with a standing ovation at the festival, which was not only a proud moment for him, but the whole nation.
Joyland, co-produced by Sarmad Khoosat, was a dangerous yet confident exploration of relationships in a Pakistani joint family, when a young, married, albeit effeminate man, Haider (Ali Junejo), falls for an ambitious and glamorous trans starlet, Biba (Alina Khan), in an erotic dance theatre, presenting a picture of a clan torn between modernity and tradition in contemporary Lahore, with old-fashioned notions of gender and duty. Haider's eyes are opened to a whole another way of life — and possibly another way of loving. All this while, his wife, Mumtaz (Rasti Farooq), feels suffocated with the expectations of the patriarchal society she lives in, and quite unwilling about the prospect of bringing another boy into the family full of girls, much to everyone's disappointment). Haider makes for a quietly gripping lead: a man troubled by his father's conformist expectations, with and more complex than he dare admit. He prepares meals, he cleans and happily plays childminder to his three nieces. Mumtaz is a sad figure: a smart woman who deserves more than she has. But the most unique character is Biba, the pre-op trans woman who makes a living with exotic dancing — sometimes in front of a large, relatively mainstream audience, other times for a small crew of lewd, sexually aggressive men. The relationship between Haider and Biba is intriguing. They seem like the best of friends stuck in a marriage that they didn't sign up for. There's attention to detail in the rituals of daily life, whether it's family festivals or the rehearsals of the troupe. Sadiq's approach to constructing scenes is languid, slow, unhurried. The impact of interactions, substances, scraps of dialogue, have room to develop, their meanings becoming rich and strong as the film grows more assertive. Emotionally restrained most of the times, the film is brimmed with an unexpected gut punch towards the end, where it shifts focus to a deserving subject and drops another key character. Liberation comes at a hefty price in Joyland, especially, and inevitably, for the women. It paints a society in which appearances are everything and few dare to be true to themselves. Sadiq has weaved a fabric where it is rendered essential to create a façade in order to shield families from reality and where neighbours cannot question what is really going on.
Drawing inspiration from his own family and a theatre close to his home in Lahore, the debut directorial was insistent on challenging narrow minds, clearly highlighting the strained equations within a desi family throttled by societal concords. It seems like Pakistan has beaten India to it, with a feature film starring an attractive transwoman as the key protagonist. Although I have no clue as to what it's like to present or feature a film at Cannes but I do know the feeling of getting teary-eyed at such a monumental achievement, a feeling that is as marvelous as it is uncontrollable; it is the product of finally sharing your efforts with an audience after eons of struggle, mental and physical.
Sarwat Gillani, who also stars in the film, couldn't contain her excitement at being a part of Joyland, "They say it takes a village but what it really takes is a team of well-meaning solid individuals with you to make it happen."
The team members represented the country, in spirit, colours and clothes, as they arrived at the star-studded event. Various stars of the media community including actor Osman Khalid Butt and film director Nabeel Qureshi congratulated the Joyland team with pride and happiness.
Iram Parveen also took to social media to praise the team of Joyland with congratulatory messages, "I am present today to stand by my brother Saim Sadiq and the entire team of Joyland as I've been since we met the first time in 2018. May you rise and shine and create a spotlight so bright that it not only elevates you but blazes the path, slams open the doors and shatters the ceilings of have nots and can nots and should nots. May this be a reckoning to the world that Pakistani creators are here to stay and here to be the first to tell their stories."
"Saim has weaved a young and sensual modern-day household story, wrestling with the burden of manufactured gender roles. It radiates the shared want-to-stay-and-love without compromise," mentioned Fabien Westerhoff, CEO of Film Constellation, a French-British agency dealing with the film's worldwide gross sales.
People from across the border didn't hesitate to applaud the team, including Richa Chadha and Namrata Joshi. Siddhant Adlakha, an actor, filmmaker and television writer from India was also all praises for Joyland, "it is as daring as it is gentle; a story of a family man and the trans dancer he falls for; it excavates the way gendered structures can erode people's sense of being. This works feels fully alive."
ET: When I discussed Joyland with the media fraternity, your work was assumed to 'shock Pakistanis', especially after Darling. It raised the question: Can this be seen by 'morally upright' families, the ones that describe the duty and roles of all family members? Do you think it bridged the gap between ignorance and truth?
SS: I came from a very morally upright, middle-class conservative family, and to find out that this other world exists, literally like a 10-minute drive from my house, that I never knew of. It's so different, the world of the theater, where sexuality is not such a taboo, where women can get on stage and be in such positions of power, where this is a certain form of erotica.
ET: Joyland explored sensitive themes such as gender roles, escapism, sexual orientation, the need for acceptance. How did you dare to achieve this feat, especially in a country which is pierced with taboos?
S.S: It opens the possibility of asking questions about sexuality, we can have characters that are confused and figuring things out, and that is completely okay. One doesn't always have to know things about everything. Not everybody in Pakistan ascribes to the same heteronormative culture.
ET: Is art a form of rebellion? A protest? A voice against conformations?
S.S: It's rebellious in what it does; the fact that it exists and has gotten this kind of recognition coming out of Pakistan is what perplexed people the most. And then giving screen time and space to things that are never spoken about does feel like a protest.
ET: Do you think a cinematic pilgrimage like this one will impact the revival of Pakistani cinema?
SS: Honestly, no. Yes, we are proud of what we have achieved but it is not like somebody was trying to do this kind of work. I don't know how willing a big production house would be to fund a film like this. Unless more independent productions join forces and make films that get recognition so we can make our own lane, which is very possible because we don't know what Pakistani cinema is or can be, it is still in the budding stage.
ET: Surprisingly, Pakistan has one of the most progressive transgender cultures in the world. In 2018, Pakistan passed a landmark transgender rights bill that provides the country's trans citizens with fundamental rights including prohibiting discrimination and harassment against them educationally and socially, allowing them to obtain driving licenses and passports and to change their gender in the national database at their own discretion. What is your stance on that?
SS: "They were always very much part of the world that we lived in. They brought a certain sense of color and flamboyance and an owning up of desire in a certain way. The progress of Pakistan's transgender community has been so rapid that I had to pause writing the script because some narratives about them weren't truthful or relevant anymore. From the time they were struggling and they had all these superstitions around them to now when they are actresses, doctors and news anchors, it's a huge shift that I've been fortunate enough to see in my life."
The project entailed so many firsts, and so many young people in the absolute lead, it is unarguably the finest portrayal of Pakistani cinema. A delightfully proud moment for Pakistan indeed!
Source link