Fans upset with representation in 'Ms Marvel' clip | The Express Tribune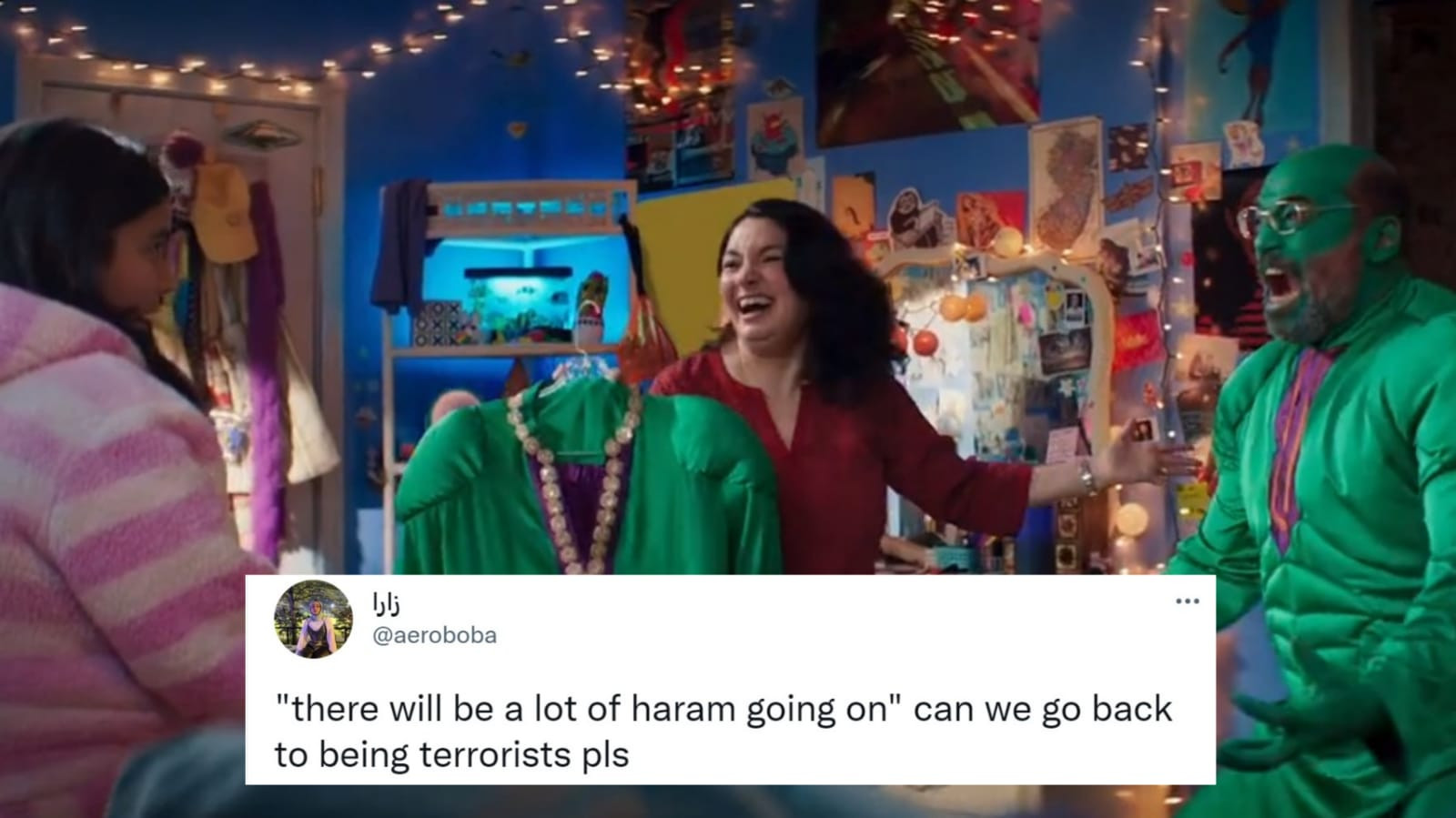 If you were excited for the Pakistani-American superhero's tale in a Marvel production, the representation of a brown desi family in it will ruin your mood for sure! Ms. Marvel dropped its first clip on Wednesday and we see a flushed Kamala Khan (Iman Velliani) struggling to choose between an over excited mother dying to see the father-daughter duo twin in desi Hulk outfits or skip an Avengers themed school party. Full of passive aggressive statements and conditional love, social media users are disappointed with the cringy— and far from relatable— representation in the clip.
The clip begins with the 16-year-old Captain Marvel fangirl hiding a homemade superhero costume inspired by her personal hero: Brie Larson's Carol Danvers, for an Avengers' themed costume party she's invited to. The fearful face changes to an excited Kamala beaming with joy upon getting permission from her mother, Muneeba (Zenobia Shroff) only to later find out the conditions behind it.
The two conditions include Kamala wearing a mom-approved-hideous outfit and be chaperoned by her green painted dad twinning with her. Muneeba pulls out a desi shalwar kameez version of a Hulk outfit and as if that wasn't enough, we get to see a visual display of what the outfit looks like on her dad, Yousuf (Mohan Kapur).
From pointing out the fake Indian accent to throwing the word 'abbu' and 'haraam' to make it sound 'Pakistani', social media users have pointed out everything that's wrong with the Khans. A user wrote, "Indian english accent, indian actors, 'so much haram going on' is exactly how Bollywood thinks muslims/pakistanis talk. This isn't Pakistani representation, it's a representation of how Bollywood has always perceived and shown Pakistanis to be. What a waste honestly."
Others also echoed the same sentiments.
Another preferred being represented as "terrorists" instead of this "false" and "imperialist" representation.
And then came some memes, ofcourse.
Kamala, one of the newest members of the Marvel Studios superhero squad, follows the 16-year-old Pakistani-American from New Jersey with the ability to shapeshift, energy absorption and manipulation, according to Screen Rant.
In the comics, Kamala is imbued with shapeshifting powers following the activation of her dormant Inhuman genes, which leads her to shoulder the responsibilities of a superhero, following the footsteps of her idol, Captain Marvel.
The cast also includes Aramis Knight, Saagar Shaikh, Rish Shah, Matt Lintz, Yasmeen Fletcher, Laith Nakli, Azhar Usman, Travina Springer, Fawad Khan and Nimra Bucha.
Ms Marvel, part of the Marvel Cinematic Universe's Phase 4, is set to stream on June 8 on Disney+ with new episodes premiering on Wednesday. The show is created by Bisha K Ali.