Diwali 2023: Post-Festival Hair and Skin Care Tips to Revive Your Glow – News18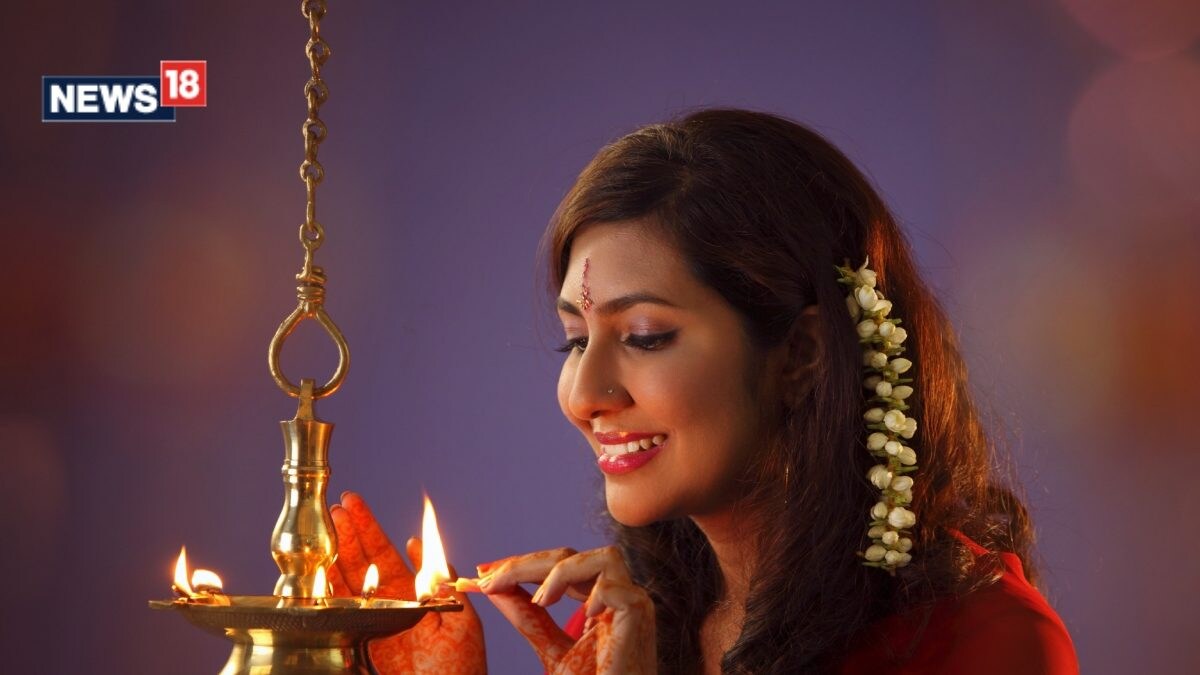 Last Updated: November 12, 2023, 20:08 IST
Diwali 2023: To protect your hair and skin, here's a look at 4 easy steps. (Image: Shutterstock)
Diwali 2023: Even after Deepavali, the effects of late nights, rich food, and exposure to pollutants can linger on your skin and hair. Here's a comprehensive guide to help you restore your natural radiance and get your post-Diwali beauty back on track.
DIWALI 2023: The festive season of Diwali extends beyond a single day. It encompasses a series of celebrations that commence weeks before the main festival. In various parts of India, Diwali is preceded and followed by several festivals like Dhanteras, Bhai Dooj, Kali Chaudas, and Naraka Chaturdashi.
ALSO READ: Happy Diwali 2023: 20 Heartfelt Ways to Reply to Deepavali Wishes, Messages, and Greetings
For many individuals, this period involves indulging in sweets and fried delicacies, managing the stress of hosting parties or making puja arrangements, and adorning heavy makeup and intricate hairstyles. Coupled with the rise in pollution caused by firecrackers, this creates conditions that can strain the body. To protect your hair and skin, we have curated 4 easy steps.
Give your skin a break
After the Diwali festivities that involve heavy makeup and exposure to pollutants, it's crucial to allow your skin some recovery time. Post-Diwali, adopt a simple skincare routine including double cleansing, exfoliation, and moisturising. During the day, ensure the use of SPF 30 or above. Treat your skin to a face mask suitable for your skin type. Consider avoiding makeup for a while and indulge in a steam bath to relax and unclog pores.
Focus on scalp care
The exposure to particulate matter during Diwali can lead to 'Sensitive Scalp Syndrome,' causing discomfort. Deep clean your hair and scalp, avoiding chemical-heavy shampoos that may worsen sensitivity. Opt for fragrance-free and pH-balanced shampoos. Follow up with a hair mask or deep conditioning, especially if you have dry hair. An effective scalp massage with oil can also stimulate and nourish your scalp.
Cleanse from the inside
No external product can match the benefits of internal care for your hair and skin. Maintain a balanced diet, regular exercise, and stay hydrated with seven to eight glasses of water daily. Ensure restful sleep for at least eight hours each day. These practices are essential for detoxifying your body, restoring balance, and accelerating cellular repair. Returning to a balanced lifestyle post-Diwali indulgences is the key to maintaining good hair, skin, and overall health.
Indulge in Relaxation
Amidst the post-Diwali detox routine, don't forget the importance of relaxation. Stress can take a toll on both your skin and hair. Incorporate relaxation techniques such as meditation, deep breathing exercises, or a calming bath into your routine. Taking time for yourself not only reduces stress but also contributes to a radiant and healthy appearance. After the hustle and bustle of the festive season, dedicating moments to relax and unwind can be a rejuvenating addition to your overall well-being.
Nibandh Vinod
Nibandh Vinod is a seasoned journalist with expertise in covering events, festivals and driving SEO content for News18.com. A tech-savvy person, Niban…
Read More
Source link