David Banda wears a similar dress that his mother Madonna wore in 1993 – Times of India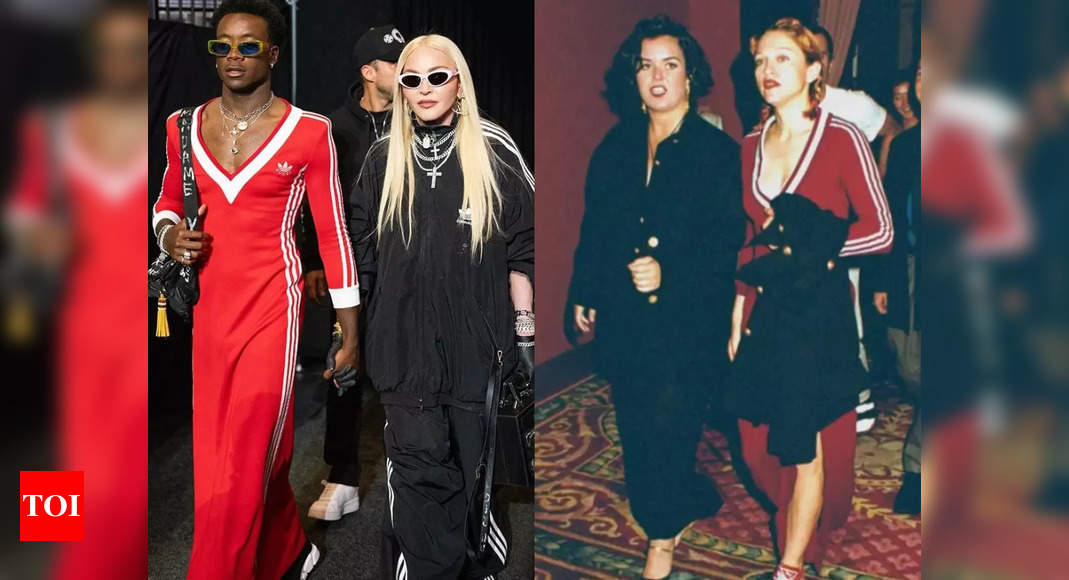 Musical icon Madonna's son David Banda sent the internet into a frenzy by wearing an Adidas X Gucci red and white stripe dress, inspired by a similar dress his mother wore in 1993, for the premiere of "Sleepless in Seattle", which she attended alongside Rosie O'Donnell.
The mother-son duo was spotted attending the WBA World Lightweight Championship in NYC.
Luxury brand Gucci called it a "past-meets-present moment" in an Instagram post, shared on Monday.

https://www.instagram.com/p/CeMXKkho39N/

"The archival original was part of an official collaboration between the sportswear brand and Laura Whitcomb of Label NYC and re-envisioned by Alessandro Michele within his Exquisite Gucci collection," the brand wrote in the caption.
Banda looked sensational as he walked hand-in-hand with his 63-year-old superstar mother while wearing the stylish dress, which he accessorized with black sneakers, a shimmering stack of necklaces, gold-rimmed shades and a black shoulder bag.
Madonna also shared a series of fun pictures from her stylish "family fight night" with her 16-year-old son, wherein she was seen also donning Adidas' signature three-stripe look in an all-black outfit.

https://www.instagram.com/p/CeJ-dZcOTSP/

Madonna accessorized her ultra-stylish look with a stack of silver cross-necklaces, a pair of leather gloves, and white rimmed shades.
Netizens were quick to heap praise on Banda's daring look, with one Twitter user branding him "the most Iconic Ciccone kid".
As it seems, Banda is no stranger to making out-of-the-box creative sartorial choices. Last year in May, he was captured on video, via Madonna's Instagram, waltzing around their home in a maxi off-white silk dress, black shades and sneakers.


https://www.instagram.com/p/CPexptPh6hB/?utm_source=ig_embed&ig_rid=53be6d19-0cb2-44c9-8656-9b88512dfb75

"Confidence is everything . . .????" his proud mom captioned the post, in which Banda, her first child she adopted from Malawi, can be seen wearing the design from Mae Couture.