Chimpanzees found using human-like warfare tactics in fight, flight situations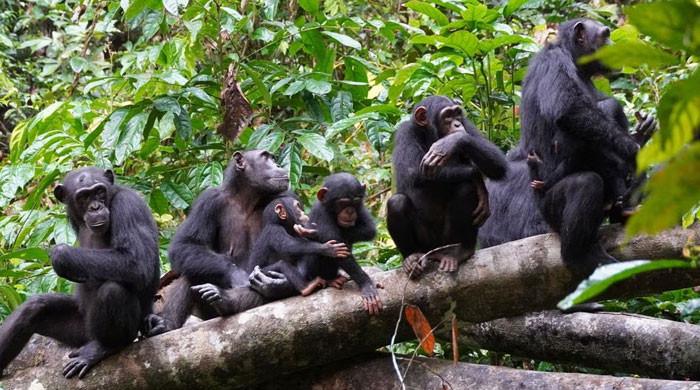 In a remarkable observation, scientists have documented chimpanzees employing a tactical warfare strategy that closely resembles human behaviour.
This revelation occurred in Tai National Park, located in southwestern Ivory Coast, which is West Africa's largest protected area of rainforest. The researchers have spent three years closely monitoring two neighbouring communities of wild western chimpanzees within the park.
What they discovered was the deliberate use of elevated terrain in warfare situations. Just like in human military history, these chimpanzees used the high ground for reconnaissance and strategic planning. 
When the sounds of potential adversaries were detected nearby, the chimp patrol would retreat, avoiding unnecessary conflicts. This scenario, which mirrors situations in human warfare, involved these primates making calculated decisions about when and where to engage in potentially dangerous encounters.
The key finding was that the information gathered during these hilltop reconnaissance missions played a crucial role in their decision-making process. The researchers noted that the chimpanzees were more likely to engage in forays into enemy territory when the perceived risk of confrontation was lower. This demonstrates an intricate cognitive ability to anticipate when and where to act while ensuring the safety of the group.
For the first time, this study offers insights into the use of an age-old human military strategy by our closest living relatives. The ability to employ such tactics reveals a high level of sophistication in their cognitive and cooperative skills.
Inter-group violence is not uncommon among chimpanzees, especially in regions where their territories overlap. They compete for resources, and having large territories is advantageous because it reduces competition within the group and increases female reproductive rates. 
The researchers observed that these chimpanzees, which numbered between 40 and 45 individuals in each of the two groups, conducted regular border patrols in a highly coordinated and cohesive manner. These patrols were a response to the territorial nature of the chimpanzees and were essential for securing food resources.
The researchers also noted that inter-group encounters among chimpanzees can range from vocal exchanges from a distance to physical confrontations involving fights, bites, and chases. Killings are not uncommon in these conflicts, and victims can come from all age groups.
The decision to climb elevated terrain is not primarily for improved visual detection of rival chimpanzees; rather, it enhances their ability to detect adversaries through sound, taking advantage of improved acoustic conditions at higher altitudes. 
While on these hilltops, the chimpanzees do not engage in noisy activities like eating or foraging. Instead, they rest and listen attentively.
After descending from these elevated positions, they are more likely to venture into potentially dangerous territories when rivals are at a greater distance. The decision to do so is influenced by the proximity of rival chimpanzees. This strategy reflects a calculated approach to conflict avoidance.
Chimpanzees, along with their close relatives, bonobos, share about 98.8% of their DNA with humans and are our closest genetic relatives. Their behaviours and social structures offer valuable insights into our evolutionary history and the behaviours of ancient hominin species.
Studying chimpanzee behaviour helps us understand the shared traits and behaviours between humans and our closest living relatives. It emphasises that our differences from these cousins are often in degree rather than in nature.
Source link