Abrarul Haq will proceed to take legal action against KJo | The Express Tribune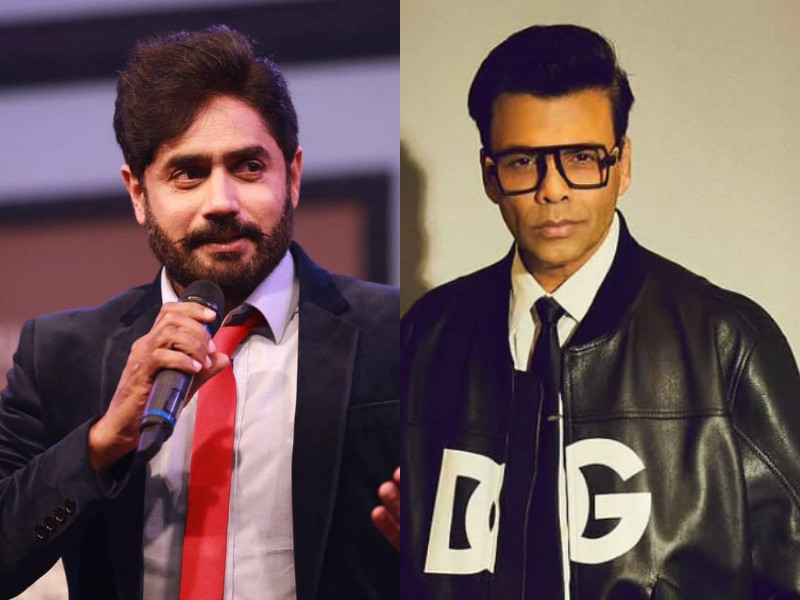 Singer Abrarul Haq, who recently called out Karan Johar's Dharma Productions and T-Series for lifting his 2002 hit Nach Punjaban for the prior's upcoming film Jugjugg Jeeyo, is now adamant on taking legal action against the filmmaker for using his song.
It appears the time has passed when Bollywood could get away with stealing tracks by simply "crediting" those who made the originals in a YouTube video. Haq was silenced after calling out the Indian giants and is not planning to settle for a mere mention. Judging from his latest video message, he does not find any consolation in the fact that such a renowned filmmaker and record label has rehashed and used his chartbusting number either.
On Saturday, the singer took to Twitter and shared a clip of himself saying, "A lot of fans have been asking me 'Why haven't you went to court against Karan Johar and T-Series for stealing your song Nach Punjaban?' The answer is, yes, I'm going to the court don't worry. Merely saying that the credit has been given because the song is well written and would make their movie a hit. I never gave you the song, I never gave anybody the rights to my song. It belongs to me so I'll get it back and I'm coming to the court, see you there!"
On May 28, Johar released the music video for the much-debated-upon song titled The Punjaabban Song, which saw the JugJugg Jeeyo cast comprising of Varun Dhawan, Anil Kapoor, Kiara Advani and Neetu Singh, dancing to the popular chorus and hook of Haq's 2002 album Nach Punjaban's title track of the same name. The video description mentions the singers and lyricist behind the song. It features Haq's name after Tanishk Bagchi. And that is not enough for Haq.
In his latest tweet, Haq has tagged the record label T-Series and Moviebox who have not yet responded on Twitter. Both had previously stated they "legally aquired" Nach Punjaban after Haq levelled a plagiarism allegation against them.
On May 22, the Billo singer had tweeted, "I have not sold my song Nach Punjaban to any Indian movie and reserve the rights to go to court to claim damages. Producers like Karan Johar should not use cop[ied] songs. This is my 6th song being copied [and it] will not be allowed."
While written and performed by Abrar, it is pertinent to mention here that Nach Punjaban is sourced to Moviebox Birmingham Limited on Spotify. Following Abrar's tweet, the UK record label's Twitter handle issued a statement of its own, making Abrar's case weaker. The label stated that Nach Punjaban had been officially licensed to be included in the film and that Johar and his production company have the legal rights to use the it for their upcoming movie. They also called the 53-year-old singer's tweet "defamatory" and "completely unacceptable".
Abrar, albeit, tweeted again, claiming his song has not been licensed to any entity. "Nach Punjaban has not been licensed to anyone. If someone is claiming it, then produce the agreement. I will be taking legal action," he shared, adamant.
With an altered bridge and somewhat the same chorus, The Punjaabban Song uses the same tune and guitar hook as Haq's Nach Punjaban, in addition to some variation in lyrics. JugJugg Jeeyo is directed by Raj Mehta and is a joint production between Johar's Dharma Productions and Viacom18 Studios. The film is set to release in Indian cinemas on June 24 this year.
The Express Tribune had reached out to Abrar via text and call, however, the singer did not respond to any request for a comment. Johar and the cast haven't commented on the claims made by Haq either.
Have something to add to the story? Share it in the comments below.